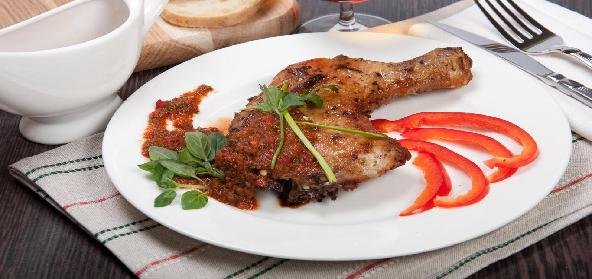 Ingredients:
• 4 – Chicken thighs,.
• 3 Onions thin sliced.
• 1 tsp Garam Masala Powder.
• 3/4 tsp or less pepper Powder.
• 1 big ripen tomato.
• Whole Garam Masala (two Cloves and a small piece of Cinnamon).
• 1.5 tsp each of Ginger and Garlic paste.
• Salt to taste|
Method:
Fry onions with 2 tsp oil till they are brown. Grind and make a paste. Now head butter or 2 tsp oil, put whole garam masala and when it begins to splutter, add ginger garlic paste and the onion paste. Fry for some time, add cleaned and cut chicken pieces, salt and fry for 7 mins.
Now add pepper powder, garam masala, tomato chopped and a little water if needed and cook closed at medium flame till the chicken becomes tender.
Open the lid and fry the chicken till the masala leaves sides of the pan. Your delicious pepper chicken is ready to be served.
Recipe courtesy of Shilpa