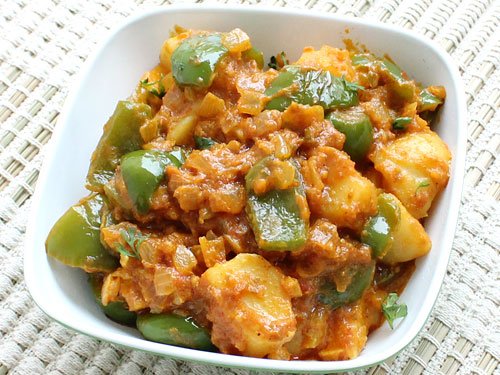 Aloo is very common Ingredients of Indian food. You can make variety of dishes from aloo by mixing it with other vegetables and Ingredients like capsicum, bhindi, cauliflower and more. Aloo Capsicum is a North Indian recipe which is very tasty and yummy in taste. Aloo Capsicum is a medium spicy recipe. Let's learn how to make Aloo Capsicum.
Ingredients
– 2 boiled potatoes
– 3 chopped capsicum
– 2 finely chopped onion
– 1 chopped tomatoes
– 2 tablespoon cashewnut
– 1/2 teaspoon ginger paste
– 1 tablespoon dry coriander seeds
– 1/2 tablespoon cumin seeds
– 1/2 teaspoon garam masala powder
– 1 teaspoon red chili powder
– 1/2 teaspoon turmeric powder
– 2 1/2 tablespoon oil
– 1 teaspoon sugar
– 1/4 cup water
– Salt to taste
How To Cook?
1. Collect tomatoes, cashewnut, coriander seeds, and ginger and cumin seeds into mixture and grind it till it becomes paste.
2. Now, add 1 cup water to this paste and make a slightly thick puree of it.
3. Now, in a frying pan add 1 tablespoon oil and then add chopped capsicum and salt and fry it for 5 minutes. After that remove the capsicum and keep it aside.
4. Now, in the same pan add 2 tablespoon oil and add onion and fry it for 5 minute or till it becomes golden brown in color.
5. Then, add red chili powder, turmeric powder and garam masala powder to it and mix it and cook for 2-3 minutes.
6. Now, add previously made puree, sugar and salt to it and cook it at SLOW flame for 5-10 minute.
7. Then after, add boiled potatoes and fried capsicum to it also add 1/2 cup water to it and again cook for 5-10 minutes.
8. When the gravy becomes thick remove it from the flame and garnish it with coriander leaves and serve hot with butter roti.
Preparation Time: 10 Minutes
Cooking Time: 25 Minutes