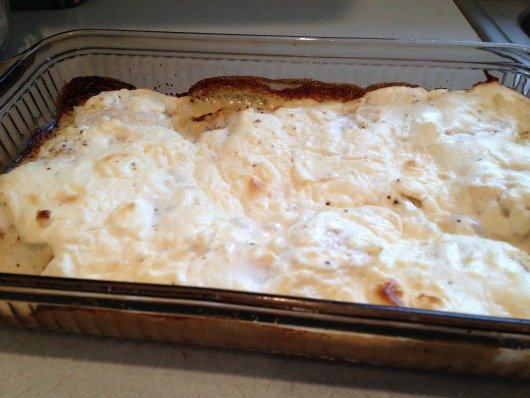 A traditional American method to bake fish with cheese sauce. Always prefer to choose and cook fresh fish rather than frozen fish. This is very easy and basic recipe to bake the fish. Try it out now.
Ingredients
– 100 gm 1 fish fillet (Pomfret Fish)
– 1/2 lemon
– Salt to taste
For White Sauce
– 200 ml milk
– 1 1/2 tablespoon refined flour (Maida)
– 1 1/2 butter
– Salt and pepper to taste
– 25 gm grated cheese
How To Cook?
1. First of all, clean and wash the fish properly.
2. Now, Apply lemon and salt and marinate it for 1 hour.
3. Again, wash to fish after marinating.
4. Now, prepare the white sauce by mixing all the Ingredients and at last add? the grated cheese to the white sauce.
5. Preheat the oven at 250C for 5 minutes.
6. Now, arrange the fish in Pyrex dish and pour the cheese sauce over the fish.
7. Now, heat the microwave at 190C and bake in moderately until the fish is tender and the top is browned.
8. Now, place the fish on the serving plate and sprinkle coriander leaves on it and Serve hot.
Preparation Time: 20 Minutes
Cooking Time: 30 Minutes