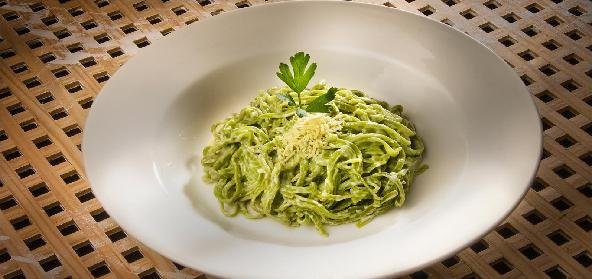 Ingredients:
• For the white sauce: 5 tbsp – Butter
• 5 tbsp – flour
• 5 cups – Milk
• salt and pepper to taste
• Remaining ingredients:
• 3 bunches – Spinach (finely chopped and washed well)
• 150 g – spaghetti
• 100 g – Paneer (cut into cubes)
• 1 tbsp – oil
• 1 tsp – Butter (for greasing the baking dish)
• 5 cubes – cheese (grated)
• Salt to taste
Method:
Boil the spinach in a heavy-bottomed vessel without any water until the water from the spinach evaporates completely. Cool and grind the spinach coarsely.
Boil the spaghetti in sufficient water with a little salt and 1 tbsp of oil until done.
Drain the water completely and keep the spaghetti aside.
For the white sauce: Lightly heat butter in a non-stick pan.
Add flour and saute on low flame until golden.
Gradually add milk and stir continuously to avoid lumps.
Cook the sauce on medium flame, stirring until you get a little thick consistency.
Remove from the flame, add salt and pepper and keep the sauce aside.
To finish off:
Add the spinach, paneer cubes and the spaghetti to the white sauce. Mix well.
Grease a baking dish and pour the white sauce mixture into it. Let it cool.
Evenly spread cheese on it.
Bake in a pre-heated oven at 180 degrees until the cheese turns golden.
Let the dish remain in the oven for 10 minutes before serving.
Recipe courtesy of Anita Raheja