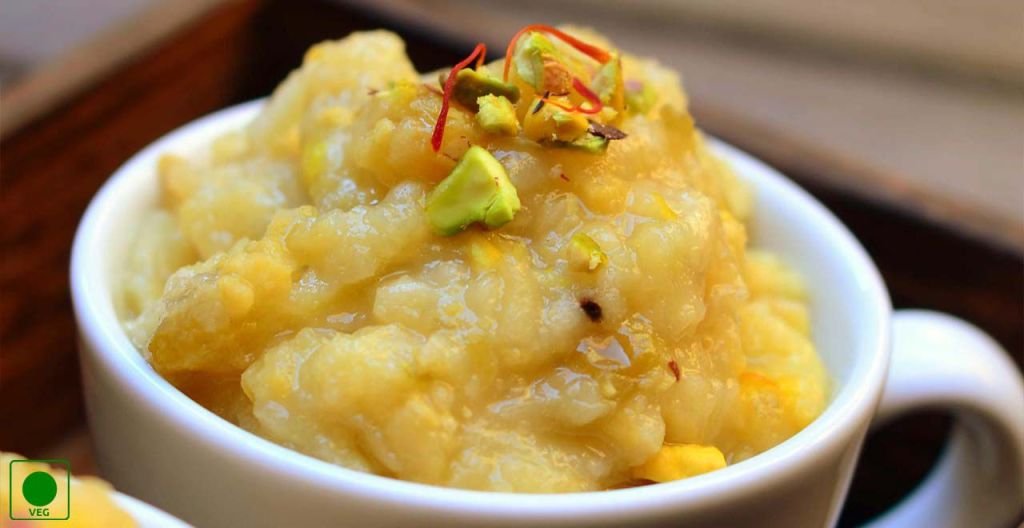 Banana halwa recipe, a very innovative recipe. It is delicacy from the Mangalore/Udupi region. It is perfect dessert when you fasting or also one can eat this delicious halwa whenever they want to have some sweet dish. This tongue-tickling dessert makes fasting easier and delicious. This interesting farali dish also can be served at festival occasions like Diwali and many more.
Ingredients
– 4 ripe peeled andamp; mashed banana
– 2-3 teaspoons ghee
– 4-5 tablespoons sugar
– 1/4 teaspoon green cardamom powder
– Few cashew nuts, for garnishing
How To Cook?
1. Take a pan and heat ghee. Once hot add bananas and cook over LOW flame and stir it continuously to prevent the mixture from sticking.
2. Now, cook this banana mixture for about 10 minutes or until mixture turns golden brown.
3. Then add sugar to the banana mixture and cook it again until sugar dissolved by stirring it continuously.
4. Now, turn off the flame and add cardamom powder. Mix well and set aside to cool down.
5. Now, grease a plate and transfer this mixture to this prepared plate and spread it evenly.
6. Cut it into square pieces and garnish each piece with cashew nuts.
7. Banana halwa is ready to delight your fasting days.
Preparation Time: 10 Minutes
Cooking Time: 15 Minutes
Servings: 3 Persons