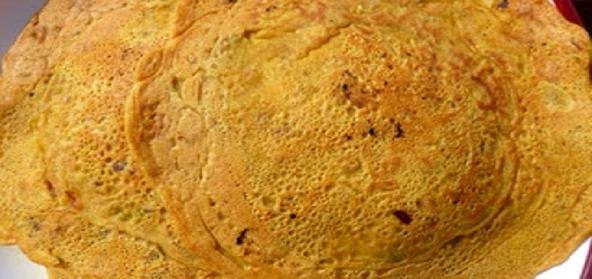 Ingredients:
• 2 cups – Besan
• 1 – large finely chopped Onion
• 1 – finely chopped Green chilli
• 1 bunch – Coriander leaves, finely chopped
• 1 tsp – Ajwain
• 1 tsp – Black pepper powder
• 1/2 tsp – Red Chilli powder
• 1 tsp – Chaat masala
• 1 tsp – Coriander powder
• 1 – 1.5 cups – Water to make batter
• Oil for cooking
• Salt to taste
Method:
Put all the ingredients except water in a big bowl.
Now start adding small quantities of water to make a smooth batter, so thatthere should be no lumps in it.
Add water till it comes to a dropping consistency or just like dosa batter; now keep it aside.
Now heat a non stick tawa or heavy bottom frying pan, then turn the heat on medium, put 1 tsp. oil on tawa and spread 1 serving spoonful of batter evenly on it.
Cover it with a lid just for a minute so that it should cook inside also, then remove lid, put some more oil on the top and turn it upside down.
Let it be brown and crispy from both sides.
Repeat the same with rest of the batter.
Serve hot with green chutney or sauce.
It can be taken with toast also.