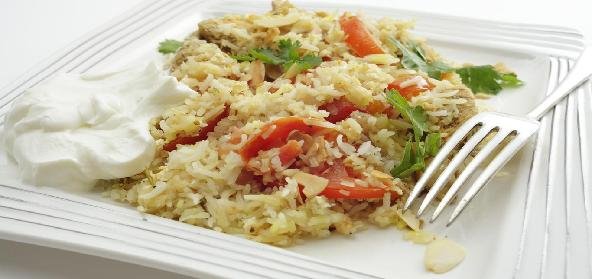 Ingredients:
• 15 – 20 – baby Potatoes
• 1 cup – Rice
• 2 – big sized onions, sliced
• 1 – big sized tomato, finely chopped
• 1/2 tsp – Turmeric powder
• 1/2 tsp – Garam Masala powder
• 1 tsp – chilli powder
• Garlic and ginger, chopped
• Handful of Mint and Coriander leaves
• 2 tbsp – flaked Almonds
• Oil / Ghee
• Salt
• For the aromatic liquid:
• 5 Cardamom
• 1 tsp of Black Peppercorns
• 2 – 3 Bay Leaves
• 1 tsp of aniseed
• 8-10 Cloves
• Small Cinnamon stick
Method:
Put the spices into a pan with 2 cups of water.
Bring the water to boil, turn off the heat, cover the pan and allow to infuse into a savoury aromatic liquid.
Pressure cook the baby potatoes for 2 whistles, peel the skin.
Heat oil in a non-stick pan and shallow fry these baby potatoes, till it turns slightly brown.
Place them in a kitchen towel, to drain off the excess oil.
In the same pan, add 2 tsp of ghee and fry some sliced onions until golden brown and reserve for garnish.
Heat oil in a pan, add the chopped garlic and ginger and fry for a min.
Add the remaining chopped onions and fry until soft.
Allow it to cool and whizz the mixture in a blender.
Heat another tablespoon of oil in a heavy bottomed pan, add in the coriander and mint leaves.
Fry for a minute, add the grinded mixture and fry for a couple of minutes.
Now, add the chopped tomatoes along with the spice powders. Mix well and cook in low flame until the oil begins to separate.
When the tomatoes get blended well, tip in the baby potatoes and mix it gently. Cook for few more mins. Remove from heat and reserve.
For rice:
In a pan, add the rice along with savoury liquid, strain and add it.
Reduce the heat, cover and cook until the liquid gets evaporated.
Finally rice is ready.
Mix the prepared baby potato masala with rice and enjoy.
Before serving, garnish with fried onions and flaked almonds.