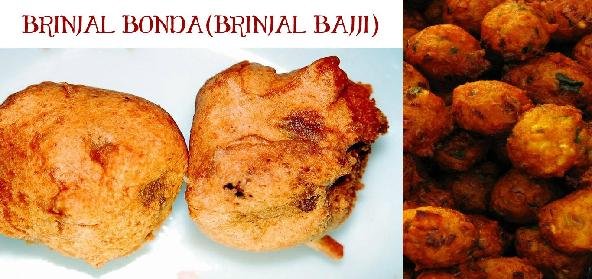 Ingredients:
• 300 g – tender Brinjal (preferably small, round variety )
• 2 onions, medium, chopped fine
• 1 to 1/4 tsp – Red Chilli powder
• 2 tbsp – fried Channa dal powder
• 1/4 tsp – ajwain
• 3 Cloves – garlic, crushed
• 250 g – besan
• 2 tsp – Rice flour
• 1/8 tsp – baking soda
• a pinch – Garam Masala (optional)
• 1 tsp – very finely chopped, Coriander leaves
• oil for deep frying
• salt
Method:
For Stuffing:
Heat 2 tsp of oil, add onion pieces, 3/4 tsp red chilli powder, chopped coriander, crushed garlic and salt.
Fry for 2 mins, add fried chana dal powder and garam masala, mix well.
Remove and keep aside.
For Bajji:
Cut brinjal vertically into four keeping the stem intact.
Boil them with some salt till they are just soft (but not mashed).
Drain the water.
Stuff the brinjals with the onion and dal mix (about a marble size is enough).
Gently press the four parts together, keep them aside.
Preparation of batter:
Mix besan, rice flour, salt, 1/2 tsp of red chilli powder, baking soda and ajwain.
Mix well and make bajji batter by adding water (it should coat the brinjals nicely).
Dip stuffed brinjal in batter and deep fry in hot oil, till golden brown in colour.
Put them on a paper napkin to drain any excess oil.
Serve hot with tomato sauce, chutney and onion rings.
Recipe courtesy of Uma Devi Ramachandra