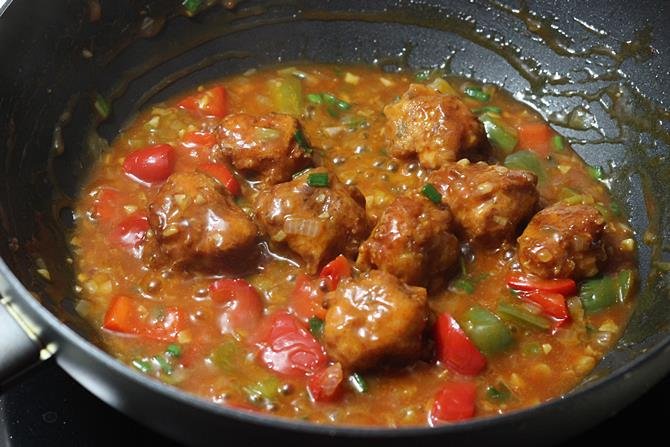 Famous Chinese delicacy made with chicken in a spicy and salty brown sauce
Ingredients:
For Chicken Marinate:
2 1/2 cups (500 gm) skinless and boneless chicken breast halves
1 tablespoon ginger-garlic paste
1 egg
2 tablespoon maida (plain flour)
1 tablespoon cornflour
2 tablespoon soya sauce
1 teaspoon vinegar
1/2 teaspoon pepper
2 teaspoon oil
Salt to taste
For Gravy:
1/2 cup chopped onions
1/2 cup chopped spring onions
1/2 cup capsicum (optional)
1 tablespoon chopped green chilies
1 teaspoon ginger-garlic paste
1 teaspoon cornflour (dissolved in 1/4 cup water)
1 teaspoon soya sauce
1 tablespoon red chilli sauce (optional)
1/2 teaspoon vinegar
Pinch ajinomotto
1/4 teaspoon pepper powder
Chopped coriander leaves for garnishing
2 tablespoon oil
Salt to taste
Method:
1. Cut chicken into small cubes.
2. Marinate with maida, cornflour, beaten egg, ginger garlic paste, salt, pepper, vinegar and soya sauce for about 45 minutes.
3. Heat oil in a wok or kadhai and deep fry chicken until golden brown.
4. Heat oil in a separate pan, saute ginger garlic paste for a minute.
5. Add green chilies, onions, capsicum and spring onions and stir fry until light brown.
6. Add ajinomotto, vinegar, soya sauce, red chilli sauce, salt and pepper and stir fry for a few seconds.
7. Add the chicken into the mixture.
8. Add the cornflour dissolved in water into the mixture above. Bring to boil, stirring constantly until sauce is thickened.
9. Simmer for few minutes and garnish with chopped fresh coriander leaves.
10. Serve hot.