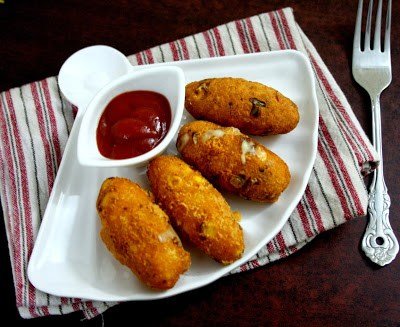 A corn cheese croquette is an ideal startup for lunch and dinner. Enjoy very tasty and very easy to cook croquettes recipe.
Ingredients
– 3 boiled and mashed potatoes
– 1/2 cup cheese
– 1/2 cup sweet corn kernels
– 4 teaspoon breadcrumbs
– 1 tablespoon corn flour
– 1 egg
– Salt, pepper to taste
– Oil for frying
How To Cook?
1. Take a bowl and add potatoes, sweet corn, salt, pepper and corn flour and mix it well.
2. Make 10 parts of this mixture and use your hands to make it flat and feel cheese inside it and give it an oblong shape.
3. Now, add it into eggs and roll it on breadcrumbs and repeat the process. Place it into refrigerator for 10 minute.
4. Now, heat the oil and deep fry it until it becomes golden brown in color.
Preparation Time: 15 Minute
Cooking Time: 40 Minute