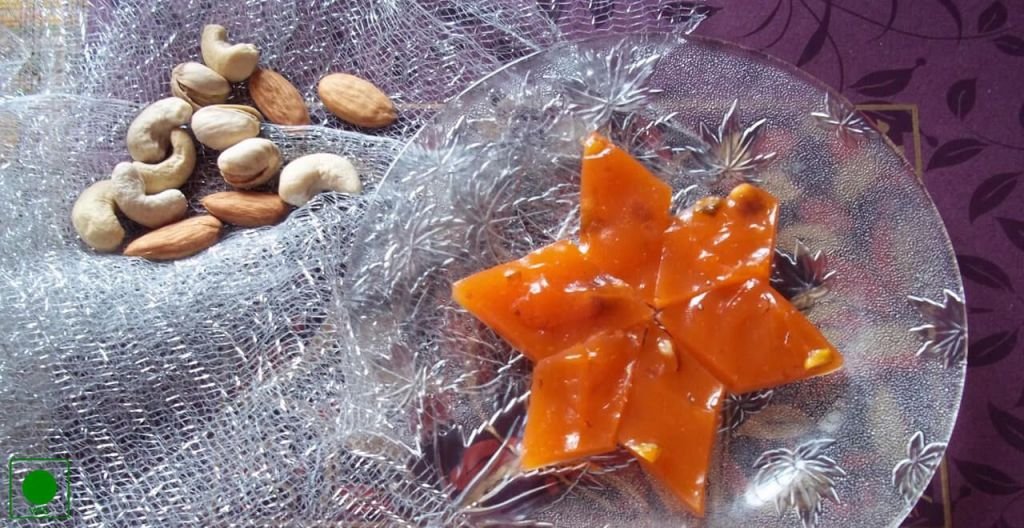 This divine sweet is also very famous as Karachi halwa and Bombay Karachi halwa. It is a popular sweet from North India. This usually made during celebration of Diwali festival. It is not that complicated to make and no need to practice for the perfect recipe. Basically, it is made with corn flour, sugar, water and some nuts with it. Let's quickly take a look for the recipe.
Ingredients
– 1/2 cup corn flour
– 1 1/2 cups sugar
– 2 1/2 cups water
– 2-3 tablespoons ghee
– A pinch of food color
– 1/4 teaspoon cardamom powder
– 2-3 tablespoons chopped nuts (cashew andamp; almond)
How To Cook?
1. In a bowl, add corn flour, 1 1/2 cup of water and food color. Mix them well so that no lumps remain. Set aside.
2. Grease a plate with few drops of ghee and set aside.
3. Heat 1 tablespoon of ghee in a skillet. Once the ghee is heated fry chopped nuts until golden. Drain them.
4. In the same pan, add sugar and remaining water and stir it until sugar completely dissolved.
5. Once it starts boiling slowly pour the prepared mixture of corn flour and keep stirring.
6. Over MEDIUM heat stir this mixture well until it transformed into little thick jelly. This will take 4-5 minutes.
7. Keep stirring it for another 2-3 minutes, once it is thickened and color turns dark add ghee and cook it for another 2 minutes.
8. When the halwa starts to leave the pan at this stage add roasted nuts and cardamom powder. Mix everything well and switch off the flame.
9. Transfer this mixture into greased plate and spread it gently. Allow it to cool.
10. Once it cool completely cut it into desired shape and serve.
Preparation Time: 5 Minutes
Cooking Time: 15 Minutes
Servings: 2-3 Persons