Bird nest cookies are a tradition in all the families during the Easter. These little birdie nest is a combination of sweet and salty taste. You canand#8217;t stop yourself eating them more and more. Children love it. It's a fun way to welcome springs. Here is the easy chocolate bird nests recipe for your Easter.
Preparation Time: 10 Minutes
Cooking Time: 30 Minutes
Servings: Makes 20-30 Pieces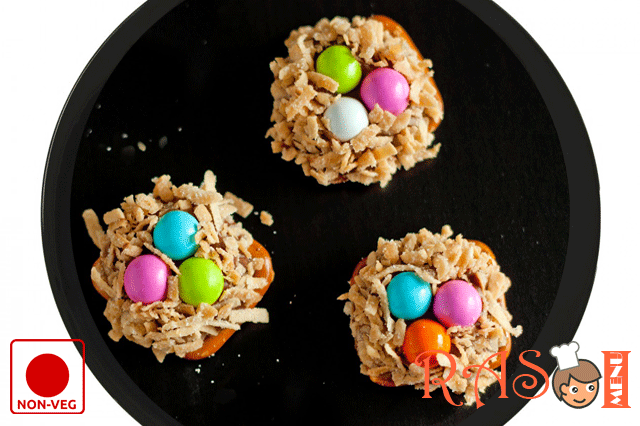 Ingredients
– 1 ? cup chocolate chips
– 1 cup white chocolate almond bark
– 1 cup peanut butter
– 1 ? cup chow mein noodles
– 1 ? cup Whoppers Mini Robin Eggs
How To Make?
1. Take a microwave safe bowl and add chocolate chips and white almond bark and place it in the microwave on 50% power for melting. Stir and repeat until all chips are smoothly melted.
2. Now add the peanut butter the mixture and mix it well.
3. Then, add the chowmein noodles and stir it until all noodles coated well.
4. Now, take a 2 feet of waxed paper and place one tablespoon chocolate noodles on the wax paper. Then mold it into a bird nest shape.
5. Place 4-5 egg candies on the top of the chocolate nest.
6. When the nests become hard, remove them from he waxed paper and serve it.
7. Also, you can place it into the refrigerator to make it cool.