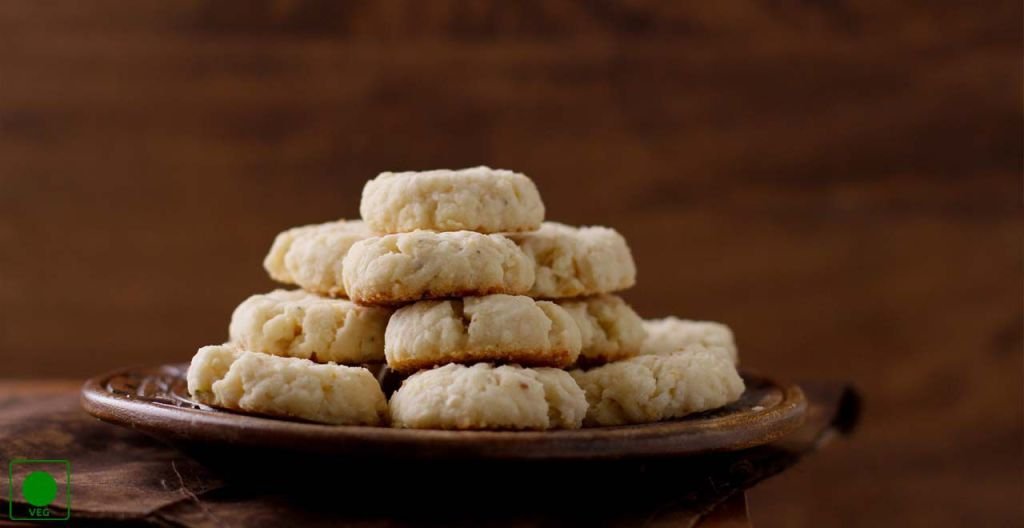 Nankhatai or we can say Indian cookies. This Indian food is very popular as a snack in Gujarat. It is also the favorite snack among kids and adults. This snack is very delicious that everyone is fond of to eating it. Farali Nankhatai is one of the most popular and exclusive form of nankhatai and it is eaten during fasting days. Make this delicate snack and start your day with this delicious snack.
Ingredients
– 1/2 cup ghee
– 1/2 cup powdered sugar
– 1 cup singhare ka atta
– 1 teaspoon cardamom powder
How To Cook?
1. In a mixing bowl, beat the ghee and powdered sugar together.
2. Then add singhare ka attam and cardamom powder and beat it again.
3. Preheat the oven to 180 C. Grease a baking tray and make small balls from the dough and place them on the tray keeping some space between each then put few charoli on the top and press a bit.
4. Bake in preheated oven at 180 C for about 15-20 minutes.
5. Once they baked allow them to cool for a while.
6. Once it cooled store in an airtight container.
7. Enjoy Farali Nankhatai whenever you want.
Preparation Time: 20-25 Minutes
Cooking Time: 15-20 Minutes