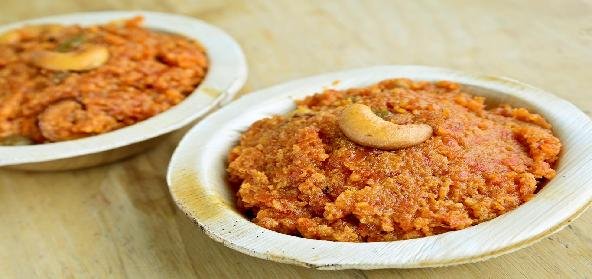 Ingredients:
• 1/2 kg – Carrots (gajar), washed, peeled and grated finely
• 1 – small tin evaporated Milk (or 1 small cup full Cream Milk)
• 1 – small tin Nestle Cream (or crumbled khoya, 200 g)
• 6 tsp – Sugar
• 1 tsp – Cardamom powder
• Saffron (kesar) dissolved in 1/2 cup Milk
• Rose water – 1 tsp
• 1 tbsp – Ghee
• Almonds and Pistachios (blanched and flaked or ground to a coarse powder)
Method:
Put the grated carrot in a deep casserole, add evaporated milk and cardamom powder.
Mix it and keep in the microwave on high for 10 minutes.
Remove casserole, add cream (or khoya), sugar, saffron, ghee and rose water.
Mix well.
Put it back in the microwave for another 10 minutes.
Remove from microwave and mix well.
Serve warm sprinkled with almonds and pistachios.
Recipe courtesy of Nafisa Mithaiwala