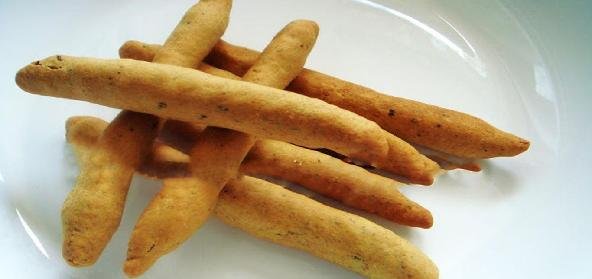 Ingredients:
• 1cup – Whole Wheat flour
• 1/2cup – Barley flour
• 1/2cup – Cornmeal
• 1tsp – Baking soda
• 1/2tsp – Baking powder
• 1/4cup – Olive oil
• 1/2tsp – Crushed Cumin seeds
• 1/4tsp – Pepper powder
• 1/2tsp – Dry Basil leaves
• 1/4tsp – Dry Thyme leaves
• Salt
• Water
Method:
Mix all the dry ingredients together in a large vessel.
Gradually add the olive oil and turn into a crumble like texture.
Add water and knead into a soft dough.
Cover and keep aside for half an hour.
Take a golf ball sized dough and roll them into long sticks.
Preheat oven to 350F.
Place a baking sheet over a baking tray; bake the sticks for 15 minutes in middle rack, until they turn golden brown.
Serve with dips or cream cheese.
Recipe Courtesy: Priya Easy N Tasty Recipes.