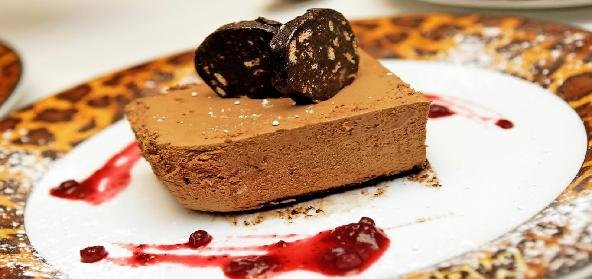 Ingredients:
• 3 tbsp – cocoa powder
• 2 tbsp – Corn flour
• 8 tbsp – Sugar
• 4 cups – Milk
• 1.5 cups – Cream
• 2 tbsp – sweetened whipped Cream (chilled)
• 3 tsp – gelatine
• 6 – Cherries (glaced, blanched, canned, fresh, any)
Method:
Put 3 tbsp of water in a small saucepan. Sprinkle gelatine over it. Do not stir. Keep aside.
Mix cocoa and corn flour in 1/2 cup of milk.
Boil the remaining milk with sugar for 5 minutes.
Add cocoa paste gradually, stirring continuously.
Cool for 3 to 4 minutes. Cool a little.
Warm the soaked gelatine over very low flame and keep stirring. Do not boil.
Mix into the milk and stir. Chill till thick, but not set.
Beat it with a hand beater till smooth. Gently mix in cream.
Pour in individual mousse cups. Set in freezer.
Once set, transfer to the fridge compartment.
15 minutes prior to serving, ice a swirl of whipped cream on each with an icing gun.
Sprinkle a pinch of cocoa powder. Top with a cherry.
Transfer to freezer.
Recipe courtesy of Saroj Kering