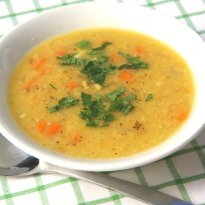 Sweet and sour lentils prepared with peanuts in tamarind and jaggery
Ingredients:
1 1/2 tablespoon yellow tuwar dal (split gram)
1 tablespoon moong dal (green gram)
11/2 tablespoon chana dal (bengal gram)
1/4 teaspoon turmeric powder
1 teaspoon cumin seeds
1 whole dry red chilli
Pinch of asafoetida
1/2 cup crushed peanut
2 tablespoon crushed jaggery
1/4 teaspoon red chilli powder
2 tablespoon tamarind pulp
Chopped coriander for garnishing
2 tablespoon oil or ghee (clarified butter)
Salt to taste
Method:
1. Wash all dals, soak for 15 minutes.
2. Add water, salt, haldi powder and cook in a pressure cooker until done.
3. Heat ghee or butter in a wok or kadhai, add asafoetida, cumin seeds, red chilli and allow it to crackle.
4. Add peanut and fry for 2-3 minutes.
5. Add jaggery and tamarind pulp and fry for a minute.
6. Now add red chilli powder and immediately add pressure cooked dal.
7. Add water, if necessary, and boil for 8-10 minutes.
8. Garnish with fresh coriander.
Cooking time: 15-20 minutes