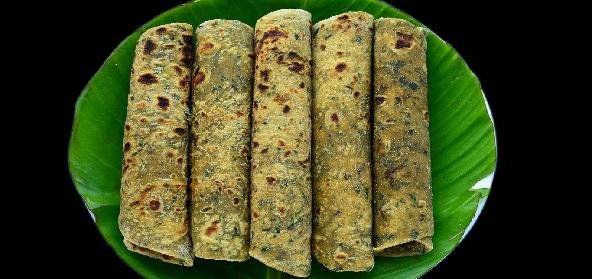 Ingredients:
• 2 cups – plain or Wheat flour
• 2 pinches – baking powder
• 2 tbsp – Butter
• 2 tbsp – curds
• 1 bunch – finely chopped Spinach
• 2 tsp – roasted sesame or Poppy Seeds
• ghee, oil or Butter to shallow fry
• salt
Method:
Add salt and baking powder to large bowl.
Sieve flour into a large bowl.
Add 1 tbsp butter and curd and mix into flour with fingers.
Add enough water to make soft, pliable dough.
Knead with palms till very smooth.
Cover with moist cloth, keep aside for 15 – 20 minutes.
Divide dough into 6 parts.
Knead one into a ball, roll into a thick chapatti.
Apply half of the remaining butter onto the chapatti.
Roll into a tight cylinder.
Hold one end down, snake down spiral to form a pile.
Press down gently with palms.
Roll again to make a thick chapatti.
Spread out remaining butter onto it.
Spread one sixth portion of spinach over this.
Fold one end over the other, to overlap like envelope.
Fold long ends in over center to form a square.
Roll carefully to a thick square paratha.
Put on a warmed griddle, roast on both sides till brown spots appear.
Drizzle fat on both sides, roasting till crisp and golden.
Sprinkle some roasted poppy seeds or sesame seeds on top.
Repeat for remaining dough and spinach.
Serve hot with curds or chutney.
Recipe courtesy of Saroj Kering