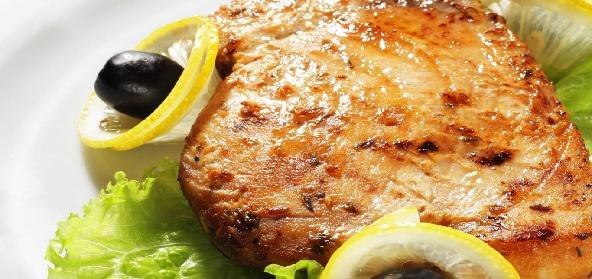 Ingredients:
• ½ kg – fish (any firm white fish)
• 120 gms – Ghee
• 30 gms – malai (cream)
• 60 gms – Yoghurt
• 30 gms – Almonds blanched and ground with water
• 60 gms – onions, thinly and evenly sliced
• 12 gms – red chillies, powdered
• 12 gms – coriander seeds, powdered
• 18 gms – ginger, scraped and ground
• 12 gms – garlic, ground
• 1.5 gms – cumin seeds, powdered
• 4 gms – cardamoms, powdered
• 4 cloves, powdered
• 2″ piece Cinnamon stick, powdered
• 15 ml – kewada mixture
• 12 gms – salt
Method:
Skin the fish and cut into 2-inch x 2-inch pieces.
Wash thoroughly and dry completely on paper or cloth.
Add malai, almonds, yoghurt and salt to the fish, and mix well.
Marinade for half an hour.
Heat the ghee and fry sliced onions to a golden brown.
Remove, grind and keep aside.
In the same ghee, add red chillies, onions, coriander seeds, ginger and garlic and bhunao (stir fry) twice.
Add fish, fried ground onions, and stir well.
Cook on medium heat, uncovered. Do not add water.
Stir occasionally and gently not to break the pieces.
When cooked, add all the remaining ingredients and stir gently.
Simmer on low heat till ghee films the surface of the gravy.