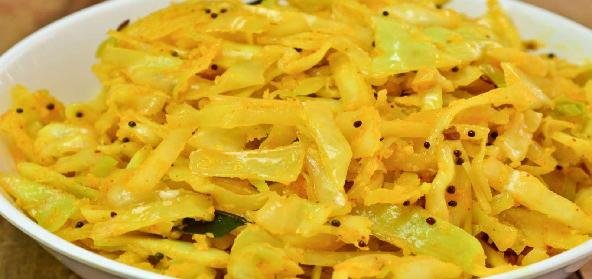 Ingredients:
• Cabbage (finely chopped) – 2 cups
• Moong Dal – 1 cup
• Green chillies – 3
• Jeera – 1 tsp
• Kaali Mirch (black pepper) – 1/2 tsp
• Coconut (grated) – 1/4 cup
• Sarson – 1/4 tsp
• Urad Dal – 1/4 tsp
• Salt to taste
Method:
Bring water to boil in a heavy-bottom vessel and boil moong dal and cabbage together, till they are well-cooked.
Grind coconut, green chillies, jeera and kaali mirch to a paste, and mix it well with the boiled dal and vegetable.
In order for flavours to mix well, let the koottu remain in the stove on minimum heat for about 3-4 mins. Add salt.
In a kadai, heat a tbsp of oil and let the sarson and urad dal splutter well.
Add it to the koottu.
This koottu goes very well with rice as well as with phulkas.
Recipe courtesy of Sify Bawarchi