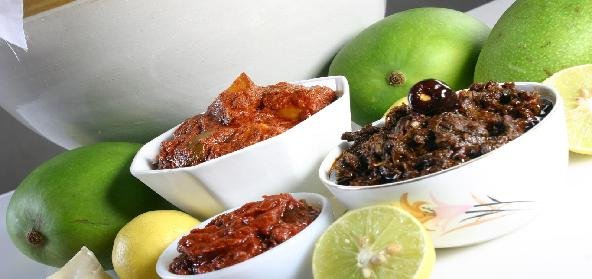 Ingredients:
• 250 g – Raw Mango pieces
• 100 g – mixture of lemon, white beetroot, green chillies, Carrot
• 6 tbsp – Mustard oil
• 1 tbsp – Hing
• 100 g – Mustard Seeds
• 25 g – Fenugreek seeds
• 50 g – Kashmir chilli powder
• 30 g – salt
• 1/2 tsp – Haldi
Method:
Marinate the mango pieces by applying salt and haldi. Keep it overnight, then remove the water that has collected.
Leave it in the sun or under a fan to dry.
Heat the mustard oil and then cool it.
In a bowl add the mango pieces, carrot, beetroot, lemon, and chillies.
Add all the spices, mustard seeds, fenugreek seeds, salt, haldi, red chilli powder, hing and mix well.
Add the oil and store in a jar.
The pickle will be ready in a month and will last for a year.
Recipe courtesy of Mrs.Jyotsna Solanki