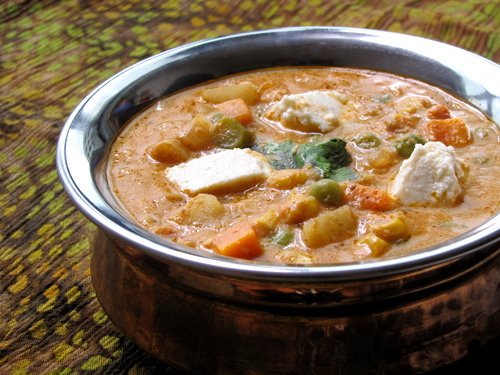 Delicacy of vegetable dumplings made with nine kinds of vegetables prepared in rich white gravy
Ingredients:
2 cups chopped and boiled vegetables (potatoes, carrots, green peas,
french beans, cauliflower, capsicum, cabbage, bottle gourd, cluster beans)
1/2 cup grated paneer (cottage cheese)
1/2 cup tomato puree
1 onion paste
1 teaspoon ginger-garlic paste
1/4 teaspoon turmeric powder
1/2 teaspoon red chilli powder
1 teaspoon coriander powder
2 teaspoon garam masala powder
2 tablespoon cream
4 tablespoon oil
1 tablespoon ghee
1 cup milk/water
1/4 cup dry fruits (cashew nuts, raisins)
Coriander leaves for garnishing
Salt to taste
Method:
1. Take 1 tablespoon ghee and slightly fry the dry fruits for about 1 min on medium heat and keep aside
2. Heat oil in a pan. Fry ginger-garlic paste and onion paste till golden brown.
3. Add tomato past and fry until mixcture starts separating from oil.
4. Add salt, turmeric powder, red chilli powder, coriander powder, garam masala and fry for 2-3 minutes.
5. Add dry fruits. Stir well and cook the mixture for 2-3 minutes. Ensure that the mixture doesn't stick to bottom of pan.
6. Add milk (use water alternatively). Bring it to boil. Reduce the heat and cook until the gravy becomes thick.
7. Add cream to the gravy and stir well.
8. Finally add all the vegetables to the above gravy and cook for 5-7 minutes.
9. Garnish with paneer and chopped coriander leaves.
Cooking time: 20-25 minutes