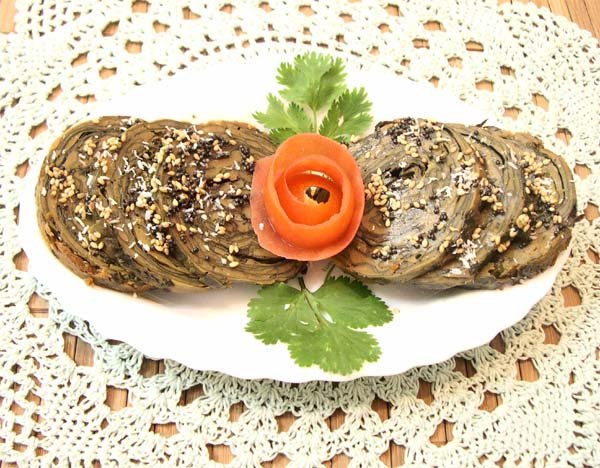 Ingredients:
15 large patra leaves (colocasia leaves)
1 cup besan (gram flour)
1/2 cup tamarinds extract (juice)
3 teaspoon chilli powder
1/2 teaspoon turmeric powder
2-3 pinch hing (asafoetida)
1 teaspoon ajwain (carom seeds)
3 teaspoon powdered sugar
1 tablespoon oil
Salt to taste
For Tadka
1 teaspoon mustard seeds
1 teaspoon sesame seeds
1 tablespoon grated coconut for garnishing
1 tablespoon coriander, finely chopped for garnishing
1 tablespoon oil
Method:
1. Cut thick veins of the patra leaves and wash them. Wipe and keep aside.
2. Mix besan, tamarind juice, chilli powder, turmeric powder, hing, ajwain, sugar, 1 tablespoon oil and salt.
3. Make it into a thick batter, using as little water as possible.
4. Place a patra leaf, backside up on a flat surface and spread thin layer of the batter on top.
5. Place another leaf over it. Repeat applying the batter.
6. Get 5 sets of 3 layered leaves each, top layer being that of batter.
7. Fold in the sides of the leaves and roll lengthwise into a tight roll.
8. Seal edges with some batter.
9. Steam the rolls for 30-40 minutes until cooked.
10. For tadka, heat oil in a small pan, add mustard seeds, sesame seeds and allow it to crackle.
11. Remove from heat and pour over patra rolls.
12. Garnish with coconut and coriander all over patra rolls.
Cooking time: 45-50 minutes