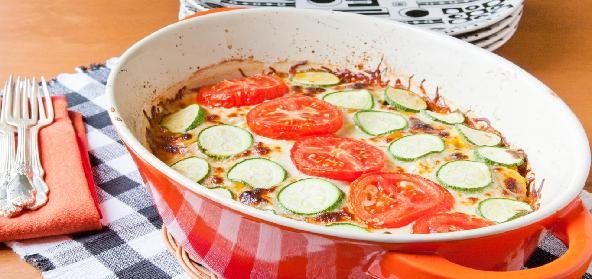 Ingredients:
• 1 cup – boiled macaroni or noodles
• 1 – large onion, grated
• 2 – tomatoes, grated
• 2 – potatoes, boiled and sliced thin or grated
• 1 – capsicum, deseeded and cut into thin rounds
• 1 – spring onion, finely chopped
• 1/2 tsp – Ginger grated
• 1 tsp – Garlic grated
• 1 tsp – Red Chilli powder
• 1 tsp – Sugar
• 1 tbsp – Corn flour
• 1 tbsp – grated cheese
• 1 tbsp – coriander chopped
• 2 tbsp – Butter
• salt to taste
Method:
Heat butter. Add ginger, garlic, and onion. Stir fry for a minute.
Add vegetables except tomato and potatoes.
Fry for 2 mins.
Mix corn flour in 1 cup water to a smooth paste.
Add chilli, salt and sugar and tomato.
Mix well and pour into vegetables, stirring as you pour.
Stir and bring to a boil.
Simmer for 2-3 mins till the milkiness of corn flour goes.
Boil till thick but of pouring consistency.
Mix the cheese in the potato (if grated).
Grease a casserole or ovenproof dish, and place the macaroni or noodles at the bottom.
Pour the veg sauce on top.
Cover with slices of potato or sprinkle if grated.
Sprinkle the coriander all over.
Bake in a hot oven (300 degrees C) for 15 mins or till potato-cheese turns golden brown.
To be eaten hot with warm buns or garlic dinner rolls.
Recipe courtesy of Saroj Kering