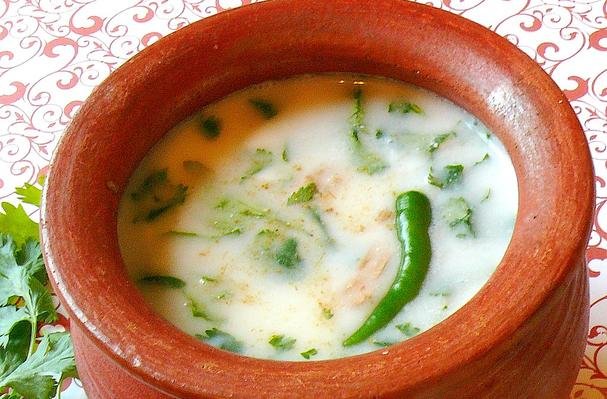 Healthy, spicy and digestive butter milk
Ingredients:
2 glasses of slightly sour yogurt (Measure with Serving Glass)
2 glasses chilled water (Measure with Serving Glass)
1 inch finely grated ginger
Pinch of hing (asafoetida)
2 finely chopped green chilies coriander leaves
1 tablespoon finely chopped
1 1/2 teaspoon oil
1 teaspoon mustard seeds
8-10 curry leaves
Salt to taste
Fresh mint leaves for garnishing
Method:
1. Blend water, yogurt, ginger, green chilies, 5 curry leaves chopped finely, coriander and salt in a blender until smooth.
2. For the tadka, heat oil in a small pan, add mustard seeds and allow it to crackle.
3. Now add rest of the curry leaves and asafoetida. Saute for half a minute and remove from heat.
4. Add this tadka to buttermilk mixture and mix well.
5. Pour into glasses and garnish with mint leaves.
6. Serve chilled.