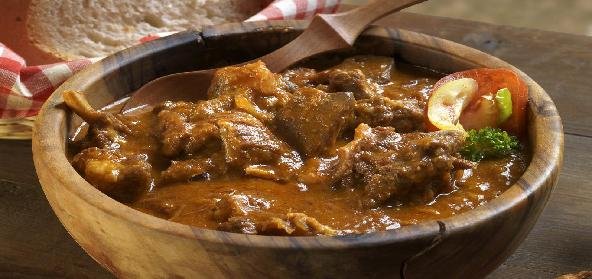 Ingredients:
• 1 kg – boneless mutton, cut into serving portions
• 250 g – beaten curds
• 1 – lime-sized ball of Tamarind
• 2 tbsps – or more Sugar as per your taste
• 1 tsp – Turmeric powder
• 1 tbsp – ground Cumin seeds and Garam Masala
• 1/2 tsp – each of coriander powder and ground Mustard Seeds
• salt and chilli powder to taste
• few sprigs Coriander leaves
Method:
Mix all the spices with curds with the exception of garam masala.
Add salt and mutton and set aside for 1 hour.
Cover tamarind with water for 5 mins and squeeze out the juice.
Heat 5 tbsps. ghee and put in the meat mixture.
Cook till the mutton is dry and then fry to a rich golden colour.
Cover with hot water and cook till the mutton is tender and dry.
Add the tamarind, sugar and cook till the gravy turns thick.
Remove from fire, sprinkle garam masala and coriander leaves on top.