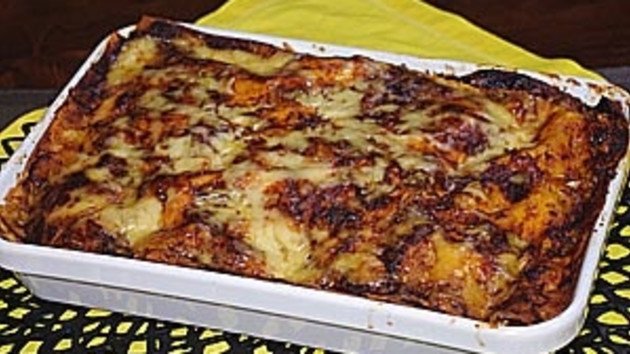 Easy Indo Mexican tortilla azteca made with cheese and vegetables
Ingredients:
1/2 cup melted ricotta cheese or any melted cheese
1/2 cup mixed vegetables (carrots, beans, cauliflower, peas)
1/2 cup enchilada sauce (see in basic)
1/2 cup boiled corn kernels
1/2 cup chopped onions
1/2 cup chopped capsicum
1/2 cup chopped tomatoes
1 tablespoon butter
4 corn tortillas (available in the market)
1/2 cup fresh cream
1/2 cup grated mozzarella cheese
Some shredded lettuce leaves for garnishing
1/2 cup soured cream for garnishing
Salt and pepper to taste
Method:
1. Preheat oven to 375°F.
2. Boil vegetables until tender, drain.
3. Heat enchilada sauce in a pan and add boiled vegetables, cook for 5 minutes with little salt and pepper.
4. Heat butter, saute onions and capsicum until transparent. Add chopped tomatoes and fry until oil separates.
5. Add corn, salt, pepper and fry for 2-3 minutes.
6. Add melted cheese and fresh cream and cook for 2 minutes.
7. Now place a tortilla and spread a layer of corn sauce.
8. Then place a layer of boiled vegetable sauce.
9. Sprinkle some grated cheese, roll in one direction and assemble in a baking dish.
10. Pour remaining sauces over the top and sprinkle remaining mozzarella cheese.
11. Bake for 15 to 20 minutes in the preheated oven, until bubbly and cheese turns light golden brown.
Cooking time: 35-40 minutes