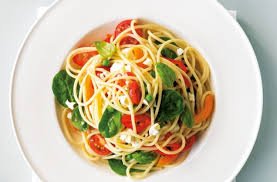 Delicious Spaghetti made with vegetables and hoisin sauce
Ingredients:
1 cup spaghetti
2 cups sliced mushrooms (optional)
1 cup shredded carrots
1/2 cup sliced red bell peppers
2 cups fresh bean sprouts
1 chopped onion
2 minced garlic cloves
1/2 cup chopped spring onions
1 teaspoon grated fresh ginger
1 tablespoon cornflour
1/4 cup hoisin sauce (made from fermented soybeans, garlic, vinegar, and chilli peppers)
2 tablespoon honey
1 tablespoon soya sauce
1/4 teaspoon cayenne pepper or red chilli powder
1/4 teaspoon curry powder
1/4 cup oil
Salt to taste
Method:
1. Boil spaghetti in lightly salted water for 8 to 10 minutes or until done. Drain and keep aside.
2. Heat oil in a large wok or pan, add ginger, garlic and saute for a minute.
3. Stir fry mushrooms, carrots, peppers and onions until tender.
4. Add bean sprouts, spring onions and cook for a minute.
5. Mix cornflour in just enough water to make a smooth paste and add to the vegetables.
6. Add hoisin sauce, honey, soya sauce, cayenne pepper or red chilli powder and curry powder. Cook until thickened.
7. Add cooked spaghetti, salt if required and toss well before serving.
8. Serve immediately.
Cooking time: 25-30 minutes