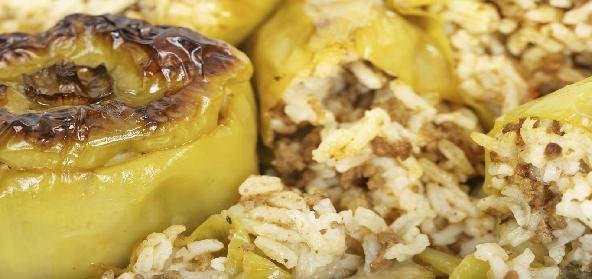 Ingredients:
• 3 – whole green Capsicums
• 4 – small or medium Potatoes
• 1/4 tsp – chilli powder
• 1/4 tsp – Turmeric powder
• 1.5 tbsp – cooking oil
• 1 tsp – sambar powder
• 1 tbsp – salt
Method:
Boil the potatoes in a pressure cooker.
Cut 2 capsicums in half and scoop out the insides.
In a high-walled pot, submerge the capsicum cups in water. Add a pinch of salt. Let it boil till they are slightly yellow.
Put the oil in a different kadai. Add mashed potatoes, chilli powder, turmeric powder and sambar powder.
Cut the remaining quarter capsicum into little pieces. Add these to the potatoes. Fry till slightly brown.
Stuff the curry into the capsicum cups after draining the cups.
Recipe courtesy of Krithika