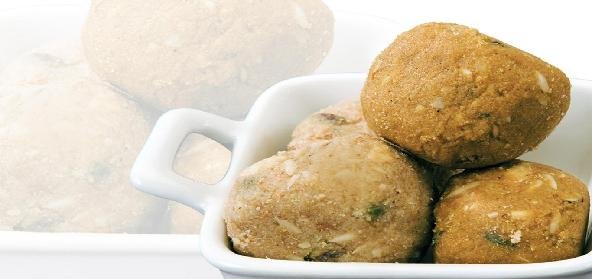 Ingredients:
• 4 cups – thick besan (gram flour)
• 2 cups – Ghee
• 2 cups – powdered Sugar
• ½ to 1.5 tsp – powdered Cardamom
• ½ cup – Raisins
• ½ cup – Milk
Method:
In a skillet, heat the ghee. Roast the beans in it till it turns golden brown and gives off a warm, sweet aroma.
Four cups will take 10-15 minutes. When the besan looks almost all done, add the milk so that it froths. Mix well. Remove from heat.
When cool, add the sugar, powdered cardamom and raisins and mix well.
Form a little besan into a smooth ball using your palms to shape and roll it.
Place the ladoo on a platter and make the next one.
When all the laddoos are done, they should be cool and firm.
Store in a flat box so that they do not break.
Recipe courtesy of Anita Raheja