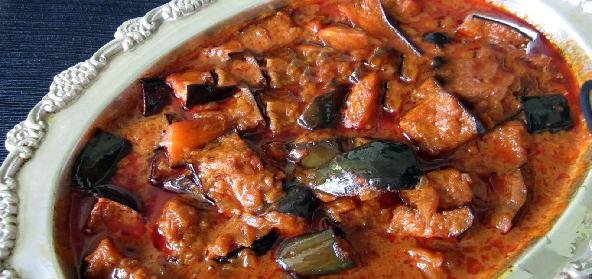 Ingredients:
• 1 large seedless Brinjal / Aubergine
• 2 Onions chopped
• 2 tsp chilli powder
• 1/2 tsp Turmeric powder
• 2 tsp Ginger Garlic paste
• 1 tsp cumin powder
• 1/2 cup Tomato juice / puree
• 2 pieces Cinnamon
• 2 tbsp Vinegar
• 1 tsp Sugar
• Salt to taste
• 3 tbsp oil
Method:
Cut the brinjal into medium size pieces and soak in a bowl of water to which a pinch of salt has been added.
Heat oil in a pan and saute the onions till golden brown.
Add the ginger garlic paste and cinnamon and fry for some time.
Now add the chilli powder, cumin powder, turmeric powder, sugar and tomato puree and fry till the oil separates from the mixture.
Add the cut the brinjal, vinegar and a little water and simmer till the gravy is sufficiently thick and the brinjal is cooked.
Serve with rice or chapattis.
Recipe courtesy of Bridget White