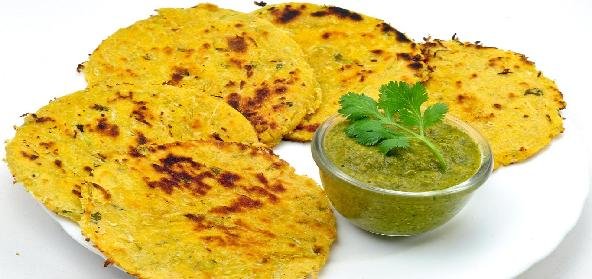 Ingredients:
• 2 cups – Bajri (millet) flour
• Salt – to taste
• Water – to knead dough
Method:
Mix flour and salt together.
Add a little water at a time and knead into a soft pliable dough.
Knead the dough for 2 to 3 minutes, till smooth and elastic.
Take a ping pong ball sized lump of dough.
Make a ball and dust with dry bajri flour.
Roll on a clean polythene sheet or rolling board.
Use dry flour to dust as you roll.
Roll it into circles, of 6 cm diameter.
Dust off excess dry flour and place on warmed griddle.
Sprinkle a few drops water and brush to coat bhakri evenly.
Cook the wet side till spots form.
Invert on direct gas flame, using tongs to hold.
Roast till brown spots appear and bhakri is crisp.
Serve hot with any desired vegetable dish or dal.
Recipe courtesy of Saroj Kering