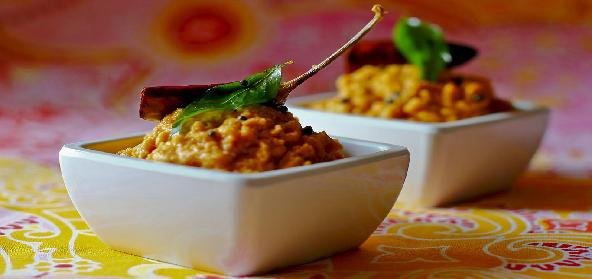 Ingredients:
• besan (gram flour) – 5 tsp
• Onion – 1 medium size
• Green chillies – 5
• Garam Masala – 1/2 tsp (optional)
• Jeera – 1/2 tsp
• Lemon juice – 2 tbsp
• Turmeric powder
• Curry leaves
• oil (to season)
• Coriander leaves (cilantro)
• salt to taste
Method:
Mix besan with 4 cups of water. Make sure there are no lumps in the gravy. Add salt and garam masala.
Heat a small amount of oil in a pan. Season with Jeera.
Now add finely chopped onions, curry leaves, green chillies, turmeric powder and salt.
Fry till the onion becomes transparent brown.
Now add the besan gravy and stir till it becomes semi-solid.
Remove from the fire and add lemon juice and coriander leaves (plenty).
This can be eaten as a side dish for pooris, chappatis or dosas.
This is easy to make, economical and a quick recipe for those busy moms.
Recipe courtesy of Vijayalakshmi Sethu