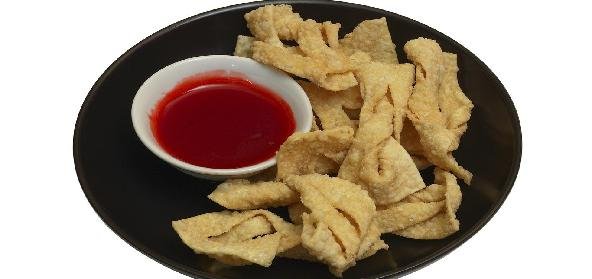 Ingredients:
• For Wonton Filling:
• 2 cups – baby Corn kernels, grated
• 2 to 3 stalks – spring onions, finely chopped
• 1 tbsp – cabbage, finely shredded
• 1 tbsp – carrot, grated coarsely
• 1 tbsp – Bean sprouts
• 1/4 cup – grated cheese
• 1 tsp – Green chilli sauce
• 1 tsp – soya sauce
• 1 tsp – Tomato sauce
• 1/2 tsp – brown Vinegar
• 1 tsp – Corn flour
• 1 tbsp – Olive oil
• Salt – to taste
• For Covering:
• 2 cups – plain flour (maida)
• 1 tbsp – Corn flour
• 1 tbsp – oil
• Salt to taste
• Other Ingredients:
• Oil – 2 tbsp (or more to deep fry)
Method:
For Covering: Sieve both flours, add oil and salt.
Add a little water at a time, to bind into a pliable dough.
Knead into a very smooth elastic dough, for at least 4-5 minutes.
Cover with a moist cloth, keep aside till required.
For Wonton Filling:
Heat oil in a large saucepan.
Add corn kernel and sprouts, stir fry for 4 minutes.
Add carrot, cabbage, stir fry further for 2 minutes.
Add sauces, salt, vinegar, stir.
Add spring onions, corn flour, stir to evaporate all moisture.
Take off fire, allow to cool, mix in grated cheese.
To Proceed:
Divide dough into 15 portions, roll each into a thin chapatti.
Cut each chapatti, into 2 halves.
Place a spoonful of filling in centre of one.
Fold over curved edge to meet cut edge.
Press down to seal well.
Pick up both corners, make them meet above stuffed portion.
The end result should look like a wonton.
Heat oil for deep frying.
Let in a few wontons at a time, allowing them to become crisp and golden.
Drain on kitchen paper if required.
Serve hot as a starter or with a soup.
Recipe courtesy of Saroj Kering