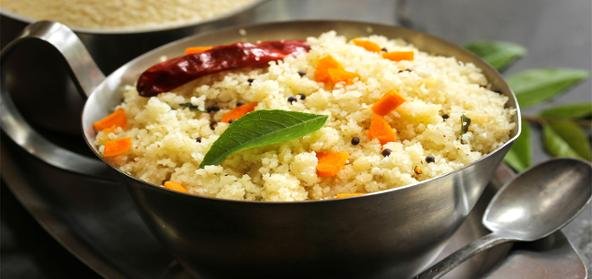 Ingredients:
• 1 cup Suji
• 1 cup mixed vegetables (any vegetables)
• 3 cups water
• 2 tsp vegetable oil
• 1 tsp Toor Dal
• 1 tsp Mustard Seeds
• 1 medium size Onion (chopped)
• 1 green pepper (chopped)
• some kadhi patha
• Lemon juice (according to your taste)
• salt (according to your taste)
Method:
Roast the sooji till light brown and keep aside.
Heat some oil in a vessel, pop the mustard seeds and then add the green pepper, tuvar dal, kadhi patha and chopped onion in it.
Cook until onion becomes brown.
Put the vegetables in the pot, add three cups of water, salt, lemon juice and cover the pot for 2 mins.
Now add sooji into it and mix it well.
Turn off the flame, cover the pot and keep aside for 1 minute.
Recipe courtesy of Sify Bawarchi