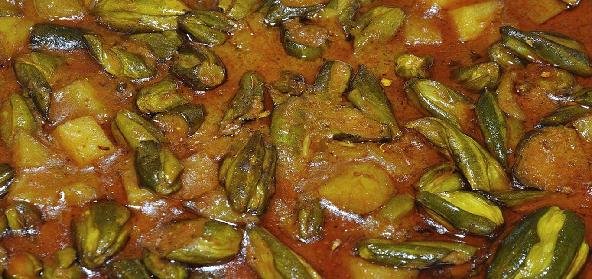 Ingredients:
• 1 kg – potol or parwal
• 2 medium sized Onions
• 1 tbsp – Ginger paste
• 1 tbsp – Turmeric paste
• 1&1/4 tsp – chilli paste
• 3-4 tbsp – coriander paste
• 2 tbsp – cumin paste
• 150 gm – Dahi (curd), lightly blended in 1 cup water
• 2 tsp – Sugar or less if liked
• Salt to taste
• 3 tbsp – Ghee
• 4 tbsp – Mustard oil or vegetable oil
• Garam Masala
Method:
Cut the ends off the potol and peel skin in strips, giving the potol a striped effect.
Heat mustard or vegetable oil and fry potol over high heat until brown.
Remove potol from pan with slotted spoon, draining as much oil as possible.
In the same pan, add the ghee to the oil in pan and when quite hot, add garam masala and fry for a few minutes.
Then add sliced onions, continue frying till onions are golden brown.
Add ground masala paste and fry for 5 mins. taking care that the masala does not stick to the pan.
Add a few drops of water if necessary.
Add the dahi and water and let it simmer.
Add fried potols, sugar and salt to taste.
Increase heat until it boils.
Then, reduce heat and cook for about 20 mins.
The doi potol is ready when there is a thick gravy and the ghee separates.