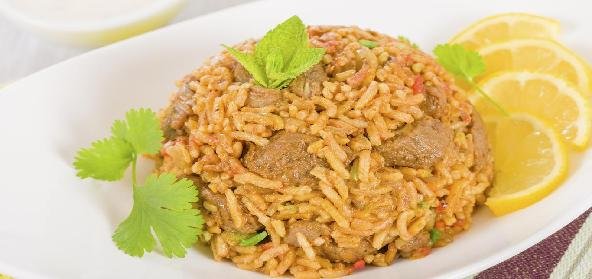 Ingredients:
• For rice:
• 2 cup – Long grain Rice
• 2-3 Bay Leaf
• 2-3 Cardamoms pods (bruised)
• 2-3 Cloves
• 1 tsp – Ghee
• 1/2 cup – Mint leaves
• 1 Star anise
• 1-2 Cinnamon small piece
• water as required
• salt according to taste
• For chicken/lamb:
• 600g – Meat of choice chicken/ lamb
• 2 Onion (thin slices)
• 2 Tomatoes (chopped)
• 1 tbsp – Oil
• 2 tbsp – Ghee (optional)
• 2 Cloves
• 2 Cardamom
• 2 Cinnamon sticks (small pieces)
• salt- according to taste
• 1/4 tsp – Sugar
• 2 tbsp – Biryani masala store bought or make at home: Roast and grind to powder 4-5 cloves, small piece Cinnamon stick, 3-4 cardamom, 1 tsp shahi jeera, 12 to 14 peppercorns.
• For Meat marinade: Salt, according to taste
• 2 tbsp – Red Chilli powder-
• 2 tbsp – Coriander powder
• 1/2 tsp – Turmeric powder
• 1/2 tsp – Garam Masala
• 1 cup – Curd
• 1 tsp – Ginger paste
• 1 tsp – Garlic paste
• 2 Green chilli (slit and deseeded)
• 1/4 cup – Milk
• Saffron strands- 5-6 (add it to the milk)
• 1/2 cup – Pudina/ Mint
• 2 tbsp – Lemon juice
• Salt according to taste
• For layering: Browned Onions
• Fried Garlic
• Saffron soaked in Milk (1/ cup)
• Chopped coriander
• Ghee- 1/2 cup
• Garnish: Fresh sliced Tomatoes
• Caramelized Onions & Garlic
• Roasted dry fruits
• Pomegranate seeds
• Accompaniments: Raita
• Chicken curry
• Brinjal thokku
Method:
Step 1:
In a bowl, add all the marinade ingredients and make a smooth paste.
Apply this paste all over the meat.
Cling wrap the meat and let it sit in the refrigerator for 3 to 4 hours or overnight.
Step 2:
While the marinated meat is in the fridge, prepare the long grain rice.
Pre-soak the basmati rice in water for 10 to 15 minutes or follow the instructions mentioned on the cover.
Cook the rice with all the condiments as well as the saffron strands soaked in water. Once partly cooked, strain in a colander and keep aside giving a gentle stir ensuring it is only parboiled.
Step 3:
In a heavy bottom wok, add ghee and oil, and heat.
Add the onions and fry till brown. Caramelize with the sugar.
Add the cloves, cinnamon, and cardamom, and continue to fry with onions.
Add chopped tomato and fry till mashed.
Reduce heat completely and add milk. Add the spice powders and stir well ensuring the milk is not curdled.
Add the marinated meat to this masala.
Give a good stir to ensure the masala is incorporated well.
Add the biryani masala an important ingredient for biryani.
Cover and let it simmer.
Ensure the meat is not completely cooked.
Once half done, remove from flame and keep aside.
Step 4:
The final stage of dum biryani is the most important. It's all about layering.
Take a broad-mouthed vessel with a heavy base to prepare biryani
Add a layer of ghee rice, followed by onion, coriander, ghee, and saffron milk. Top it with the cooked meat.
Repeat the process till all the rice and meat is well-placed.
Cover the vessel with a heavy lid or place a heavy object over the lid.
Knead some dough just like you'd do for roti.
Take a bigger ball of dough based on the breadth of your vessel; roll it in a tubular form and wrap it around the edges of the lid and vessel, sealing off the openings completely.
Since the food is half-cooked already, let it cook on high heat for 2 to 3 minutes. Remove and place a tawa and let it heat.
Once hot, place the biryani vessel over the tawa and let it cook for 20 to 25 minutes over medium heat.
Once done, remove from heat, but do not open the lid for at least 10 minutes.
Break off the seal, and gradually fold the rice ensuring you don't break the long grains.
Garnish and serve with yogurt and accompaniments of your choice.
Recipe courtesy of Sify Bawarchi