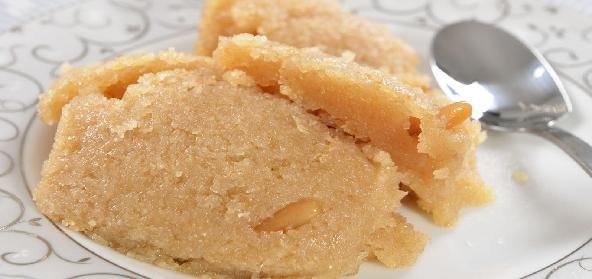 Ingredients:
• 1.5 tin condensed Milk
• 1 cup – semolina (sooji)
• 1.5 cup – Ghee (clarified butter)
• 1 tsp – kesari powder
• 8 to 10 Cashewnuts
• 1.5 tbsp – Raisins
• 2 cups – water
Method:
Heat the ghee in a kadai (wok).
Fry cashewnuts and raisins till light brown and keep aside.
Add sooji to the remaining ghee and fry till light brown.
Add kesari powder dissolved in 2 cups of water.
Keep stirring. Reduce heat.
When all the water has been absorbed, add condensed milk.
Stir well till traces of ghee begin to show at the sides of the pan.
Spread on a greased plate, top with nuts and raisins.
Serve this traditional mithai for festive occasions.