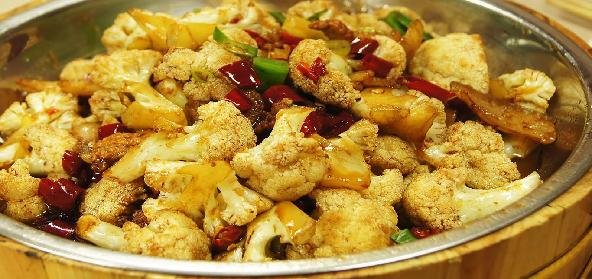 Ingredients:
• cauliflower, cleaned and broken big florettes
• small chopped Onions
• 1 tsp – Ginger and garlic, chopped
• 1/2 cup – Maida flour
• 1/2 cup – cornflour
• 1/4 tsp – Red Chilli powder
• 2 – dry Red Chilli
• 1 cup – oil for frying
• 2 cups – water
• little Milk
Method:
Boil the florettes for 5 minutes with water and 1 tbsp milk. Drain the florettes.
Mix maida flour, cornflour, chopped ginger, garlic, red chilli powder, salt and make a fine paste.
Dip the florettes in the paste and fry.
Heat oil, add onion, ginger, garlic, green chilli and fry for 3-4 minutes.
Add salt and water as per the gravy requirement and bring to boil.
Add cornflour to half cup water and dissolve well. The gravy is ready. Boil for a few minutes.
Add florettes, soya sauce and serve well.
Recipe courtesy of Vrushali Phadnis