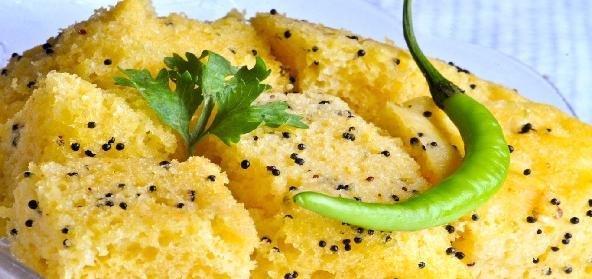 Ingredients:
• 4-6 cups Channa dal
• 1-2 cups yogurt
• 2 green peppers
• Small piece of Ginger
• Salt for taste
• 1 tsp Sugar (Optional)
• Yeast or eno
• 2 cups vegetable oil
• 1/2 cup Mustard Seeds
• 1 bunch Dhania (Coriander)
Method:
Keep channa dal soaked in water for 12 hours or overnight.
In the morning, grind dal with yogurt and water.
Add to the ground dal, fresh shredded green pepper/ ginger, sugar and salt to taste.
Keep the mixture for 6-8 hours at room temperature.
In a thali, spray some oil and pour mixture with 1/4 tsp eno.
Put the thali in a cooker and cook up to 2 whistles.
After the cooker has cooled down, get thali out and cut khaman to the size you need.
Warm 1 cup oil with mustard seeds and pour on khaman.
Garnish with cut corianders.
Recipe courtesy of Raj Patel