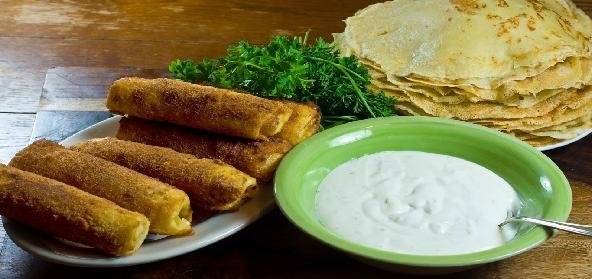 Ingredients:
• 1 cup – Wheat flour
• 1 cup – Leftover cooked rice(preferably small grain)
• 5 to 6 – Spinach leaves, finely chopped
• 1 cup – Bottle gourd, grated
• 1 – Green chilli, crushed
• Salt to taste
• For seasoning:
• 1 sprig – Spring onion with greens, finely chopped
• 2 to 3 flakes – Garlic, crushed
• 1/2 inch – Piece of ginger, grated or finely chopped
• 1 tsp – Soya sauce
• 1 tbsp – Tomato sauce
• 1 tsp – Red Chilli Garlic sauce
• 2 tbsp – Water.
Method:
For Moothiyas:
Mix the flour and the rice in a large bowl.
Squeeze out the water from the bottle gourd and add gourd to the bowl.
Now add spinach, chilli and salt. Mix lightly to form a rough lump.
Put a perforated two level steamer, to heat.
Shape the portions of the mixture into 1 inch long cylinders.
Arrange in the perforated section of boiler, allowing the water to simmer at the bottom.
Cover and press a heavy object on lid the.
Steam for 20-25 minutes, and take off fire.
Serve hot with curd, OR
Cool and cut into 1 " thick slices.
Before Serving:
Heat a non-stick pan, add all sauces and water.
Add ginger, garlic, salt it required, bring to a boil.
Add chopped slices, spring onions, toss well.
Serve hot and fresh with sauce or chutney or curd.
Recipe courtesy of Saroj Kering