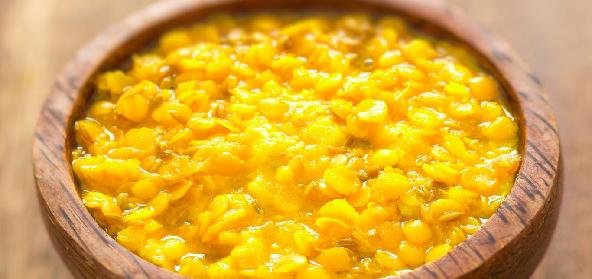 Ingredients:
• 1 cup – Bengal Gram dal
• 1 tbsp – yellow or green Fenugreek seeds, washed
• 1 tsp – Red Chilli powder
• 1/2 tsp – Dhania (coriander seed) powder
• 1/4 tsp – Turmeric powder
• 3 to 4 pinches – Garam Masala powder
• 2 pinches – Asafoetida powder
• 1/2 tsp – Amchoor or juice of 1/2 Lemon
• 1 stalk – Curry leaves
• 1/2 tsp – each cumin and Mustard Seeds
• 1/2 tsp – Wheat flour
• 2 tbsp – oil
• Salt to taste
Method:
Wash and soak the Bengal gram dal for 1 hour.
Wash, drain and keep dal and fenugreek seeds aside, separately.
Boil fenugreek seeds in water, till soft but should not burst.
Drain, wash a couple of times, drain, keep aside.
Mix chilli, turmeric, dhania powders in 1/2 cup water and keep aside.
Heat oil in a heavy pan.
Add mustard and cumin seeds, allow to splutter.
Add curry leaves, asafoetida, mix.
Add masala water, stir till oil floats.
Add drained dal, 1 cup water bring to a boil.
Cover and simmer till dal is tender to pressing.
Add methi seeds, wheat flour, amchoor, garam masala, mix well.
Simmer further 2-3 minutes, take off fire.
The gravy should be a not too thick masala.
Cover and allow flavours to blend for at least 15 minutes before serving.
Serve hot with chapattis or hot steamed rice.
Recipe courtesy of Saroj Kering