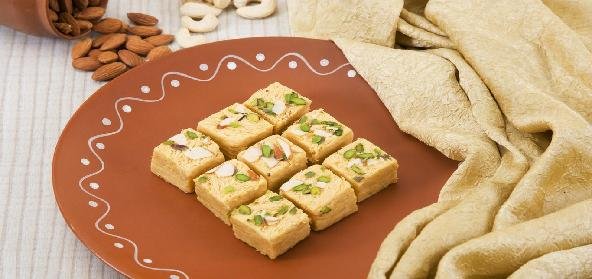 Ingredients:
• Kaju, pista, Badam – 1 glass [ kaju, pista, Badam powder altogether]
• elaichi – 5 pieces
• Sugar – 1 glass
• Ghee – 1/3 glass
• Milk powder – 1/2 glass
Method:
Grind kaju, pista, badam, and elaichi together until it becomes soft.
Make sugar syrup with enough water for the sugar to be submerged.
Boil it until the syrup becomes like thread.
Now add the mixed ground nut powder. In between pour ghee while stirring.
Keep stirring until the mix does not stick to the vessel.
Turn off the gas.
Add milk powder to the above mix and mix it well while it is still hot.
Then pour the final mix into a greased plate.
Leave it to cool and cut into diamond shaped pieces.
Recipe courtesy of A.C.V.Lakshmi