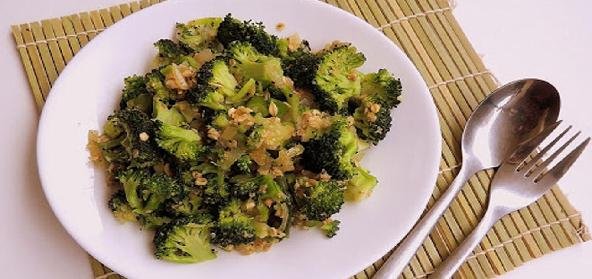 Ingredients:
• 1 – Broccoli (medium-sized florets)
• 3 tbsp – rolled oats (dry roasted)
• 1 – Onion (big and chopped)
• 3 – Green chillies (slit opened)
• 1tsp – Mustard Seeds + Urad Dal
• A few Curry leaves
• Salt
• Oil
Method:
Heat oil and sputter the mustard seeds and urad dal.
Add the chopped onions, slit opened green chillies and curry leaves and cook until the onions turn translucent
Finally add the broccoli florets and salt and saute for few minutes on a medium flame.
Don't overcook the broccoli.
Add the dry roasted rolled oats and cook on a simmer for a few more minutes.
Serve warm.
Recipe courtesy: Priya Easy N Tasty Recipe.
Recipe courtesy of Priya