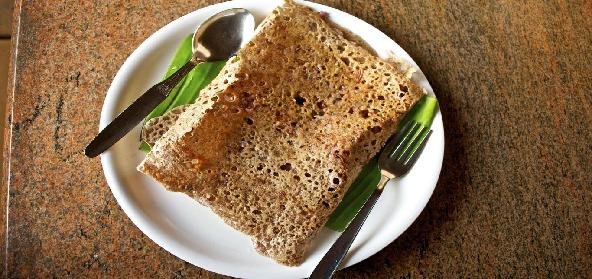 Ingredients:
• 1/2 cup – Rava
• 1 cup – Rice powder
• 1 cup of Maida (all purpose flour)
• 4-5 – Green Chilly
• 1/2 inch – Ginger
• 1/2 – Grated Coconut
• 1 – finely chopped Onion
• Salt to taste
Method:
Mix all three flours in a bowl with enough water and keep it aside for 8 hrs for fermentation.
Grind ginger and chillies to form a coarse paste.
Add the paste, salt and grated coconut to form a batter and more water to make it thin and crispy to form the dosai.
On a hot tava put little batter and spread it and put 1-2 tsp of oil on dosai, then turn to other side only for a minute and remove it from the fire.
Sever hot with chopped onions and coconut chutney or ginger pickle.
Recipe courtesy of premakhanna