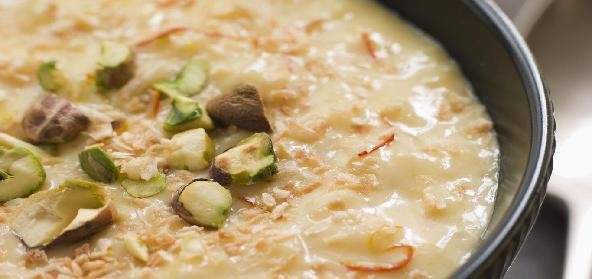 Ingredients:
• apples 2 medium size
• Paneer – 250 gm
• Sugar – 1/3 cup
• Almonds – 2 tbsp
• Saffron 1 big pinch
• Milk 2 liter
• Sugar – 1/4 cup
Method:
Peel, core and grate the apples.
Grate the paneer.
Add sugar to apple and simmer gently till they are soft.
Add paneer, simmer for 1 minute and remove from fire.
Cool the apple mixture, cover and refrigerate.
Soak almonds in hot water.
Soak saffron in 2 tsp of milk.
Heat remaining milk in a thick bottomed pan.
When it begins to boil, lower the flame and simmer gently till it is reduced to about 3/4 litre.
While the milk is simmering, clotted cream will form on the surface.
Push it to the side of the pan frequently.
Add sugar and simmer for 5 more minutes.
Crush the saffron soaked in milk with a spoon and add to the milk.
Cool and place in the refrigerator till chilled. Peel the almonds and shred.
To serve, place apple mixture in individual pudding bowls.
Pour thickened milk on top and garnish with shredded almonds.