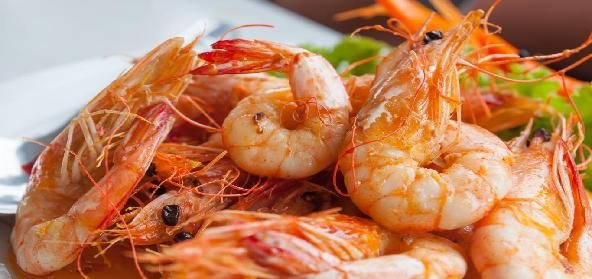 Ingredients:
• 36 – large shrimp
• 3 oz – feta cheese
• 12 oz – Plum tomatoes, finely chopped
• 6 – tbsp Butter
• 3/4 cup – dry vermouth
• 3 Cloves – Garlic
• 1/4 cup – loosely packed Parsley
• 3/4 tsp – Oregano
• 1/4 tsp – red pepper flakes
• Salt
Method:
Preheat the oven to 350 degrees.
Peel and de-vein the shrimp.
Mince the garlic and parsley and set aside.
Melt the butter in a large skillet so that the shrimps can be cooked in a single layer.
Add the garlic, shrimp, oregano, pepper flakes and salt to taste.
Cook, turning once, until the shrimp are almost pink. Transfer to a large casserole dish.
Add the vermouth to the skillet and boil until reduced by half. Add any accumulated juices from the shrimp. Add tomatoes and stir for 30 seconds. Top the shrimp with this mixture and then crumble the feta cheese over everything.
Bake until the cheese forms bubbles about 15-20 minutes. Sprinkle, parsley. Let stand for a few minutes and then serve.
Recipe courtesy of Sify Bawarchi