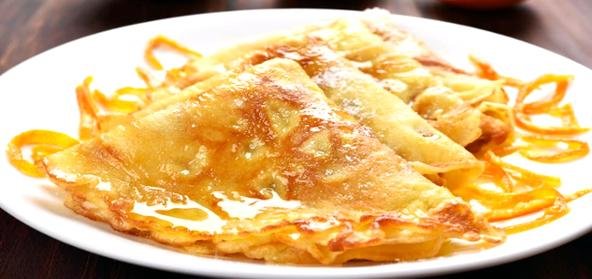 Ingredients:
• 1 cup plain flour
• 3 Egg yolks
• 3 Egg whites
• 2 tbsp. melted Butter (if you use salted, miss out the salt)
• 1 pinch of salt
• 1 cup of Milk
• ½ cup of water
Method:
Beat egg whites until they reach a peak. Place in the refrigerator.
In a mixing bowl, blend flour, egg yolks, salt, milk and water.
Cover mixture with damp cloth, let it rest for two hours.
Blend mixture with egg whites and butter. Over a medium high heat, bring butter six inch pan to sizzle.
Ladle a little butter into frying pan. Tilt and rotate such that batter covers surface evenly. Pour any excess batter back into bowl.
Fry crepes lightly until brown on both sides.
For immediate use: Cover crepes with foil and keep warm in low oven or place crepes on plate, separate each crepe with a piece of foil or kitchen paper. At this stage, you can freeze them for reheating at a later date.
Fill your crepes with lots of yummy fillings such as strawberries and ice cream, bananas and chocolate sauce or a ready prepared pie filling.
Top off with fresh cream and nuts. Don't worry about the calories right now because these are just heaven !