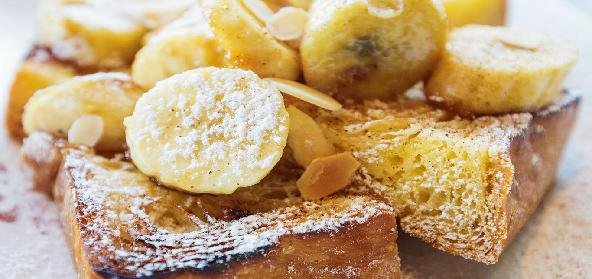 Ingredients:
• 4 – ripe bananas, mashed
• 8 slices – French bread
• 1/2 cup – Milk
• 2 – eggs
• 1 tsp – vanilla extract
• 1/2 tsp – ground Cinnamon
Method:
Preheat oven to 350 degrees F (175 degrees C).
Lightly spray a cast iron or other ovenproof skillet with cooking spray and then heat over medium heat.
Spread mashed banana on top of 4 slices of bread.
Place remaining four slices on top. In a bowl, whisk together milk, eggs, vanilla and cinnamon.
Dip bread in egg mixture for 45 seconds on each side then place in skillet.
Cook bread for two minutes on each side.
Place bread on an ungreased baking sheet and bake in preheated oven for 8 minutes, until golden. Serve warm.