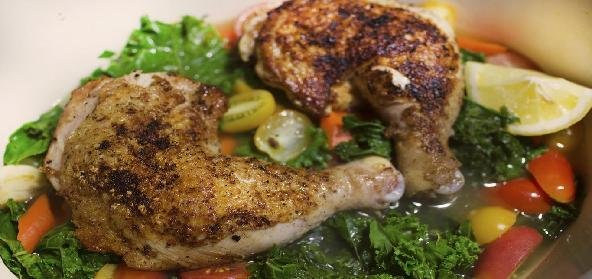 Ingredients:
• Chicken – 1.5 kg
• 1 – onion, halved
• 2 Cloves
• 115 g – streaky bacon, chopped (optional)
• 1 liter – vegetable stock or water
• 4 – Celery sticks, quartered
• 4 – carrots, quartered
• 4 – turnips, quartered
• 12 – small Leeks
• black pepper, ground as required
• Bay Leaves to garnish
• salt as required
Method:
Put the chicken in a large dish. Push 1 clove into each onion half and add them in the dish with the bacon.
Add enough stock to cover and bring to a boil.
Add salt and pepper, skim the scum from the surface, cover and simmer for 1 hour.
Add the celery, carrots and turnips, cover and cook for 30 minutes.
Add the leeks and cook for another 15 minutes, until the chicken and vegetables are tender.
Transfer the chicken and vegetables to a serving plate.
Boil the left over liquid till it forms a thick sauce.
Pour this sauce over the chicken and the vegetables and garnish with bay leaves.